It is a very special day whenever the Knights of St. John are gathered as a commandery for fellowship or liturgical events. Many of these gatherings are done to mark milestones for commanderies, grands, regiments, and individual members.
Commandery 937 celebrated Mass together most recently on November 29, 2022 for a very special occasion for 20 of our Brother Knights. These 20 Knights gathered with family and friends at the Our Lady of the Holy Rosary parish in San Bernadino California.
Brigadier General Paul Amuchie officiated the ceremony and acted as the installing officer. Congratulations to these fine men who have joined the ranks of the 2nd and 3rd degree of the Knights of St. John. We look forward to joining them in their further dedication to the tenants of our faith and our organization.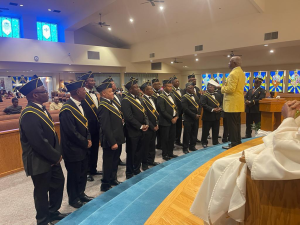 Once a member of the Knights of St. John has been active in the Order for approximately one year, and has proven himself to be a valued member, he is qualified to take the 2nd and 3rd degree, the final non-uniformed degree of the Knights of St. John.
These degrees are taken at the same time and exemplified as part of the holy sacrifice of the Mass. The candidates, families, friends, members of the Knights of St. John and parishioners in attendance are all called to actively participate in the Eucharistic celebration, and encourage the members being installed in the degree. More information on the degrees and awards of the Knights of St. John can be found on our Supreme Website.
Bishops Guard of Honor
A great way for these 20 men to start their Advent Journey! Our prayers go out to them and to all Knights of St. John as we enter into the 2023 new year with renewed faith and hope. Merry Christmas!