"JESUS I LOVE YOU" – St Kateri's last words.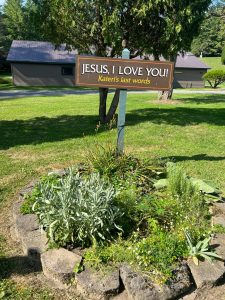 The retreat was led by the leadership of the New York Grand. Among those present at the retreat are: Brig. Gen Richard Morse (New York Grand President), Col. Dave B. Wilson Sr (Secretary New York Grand Command). Also in attendance was Major Jason Fazio,  Brig. Gen. Titus Brown Osuagwu, (Supreme Cadet Chairman and Supreme Subordinate Treasurer), Major Charles Igwebuike (Commander, District 4, New York Grand), and 1st Lt Lawrence Ibe (Recording Secretary Commandery 680, Newark, and Adjutant, District 4, New York Grand), 1st Lt Ken Uchendu (Worthy President, Commandery 626, New York), 2nd Lt Chinedum Uche (Worthy President Commandery 680, Newark), 1st Lt Oliver Nnadi (Recording Secretary Commandery 676 Trenton, NJ), and Lady Juliet Ezeigbo (Respected President LAUX 592, Newark).
St Kateri Shrine was carefully selected because of its significance in our Catholic faith. It is said, that St Kateri, born in 1656 in New York, converted to Catholicism and was baptized as Catherine. She was persecuted by her family and the indigenes of Mohawk because of her faith. Remaining resilient and adamant, but the pressure was too much on her to renounce her faith, and when the threat to her life was getting out of hand, she was forced to flee. St. Kateri then walked all the way from Fonda to Montreal, Canada to avoid the persecution.
Faith, resilience and perseverance  were her watchword and these were replicated and exhibited by the brothers and sisters who took part in the retreat. The hilly but serene topography of the environment depicted this, as the participants started the retreat with a mass in the Shrine's Chapel, had a launch break, conducted Rosary through the part from the open church hall to the Kateri fountain where Kateri was baptized and called Catherine. Coming back from the Kateri fountain, the participants prayed the Station's of the Cross, again led by Major Jason Fazio and Brig. Gen. Richard Morse.
Kateri Tekakwitha, Catholic and Virgin, died on April 17, 1680 in Kahnawake, Canada and buried in St Francis Xavier Mission Catholic Church, Kahnawake, Canada.
She was Canonized by Pope Benedict XVI on October 21, 2012 and Beatified by Pope John Paul II. She's the patroness Saint of ecology and environment, people in exile and Native Americans. The feast of St Kateri is celebrated every July 14. To date, she's said to be the only native American Saint.
The retreat which was spiritually refreshing ended well with all the participants  departing to their respective Commandery 's safely.