The Catholic funeral service is a way to honor and respect the dead. We say goodbye to our loved ones, and entrust them into the care of God's merciful hands. While taking a somber tone, it is more of a celebration of life in a final farewell, knowing that one day, hoping in the resurrection, that one day we will be united with our loved ones.
Requim aeternam dona eos, Domine

E lux pepetua lucea eos:

Requiescat in pace.

Amen
The funeral is not the only time the deceased is remembered. Throughout the world, the Knights of St. John memorialize their fallen in a number of ways. On the feast of the Beheading of John the Baptist this year, the men of Commandery #385 along with the Ladies Auxiliary #321 from St. Anthony of Padua gathered for a Prayer Service to commemorate not only the feast day but to remember their deceased members. A fitting venue for the prayer service was used at the beautiful Calvary Cemetery Mausoleum Chapel in Utica.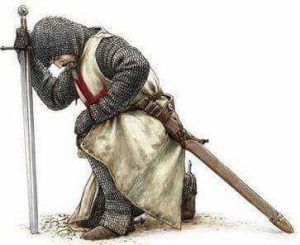 In addition to the Commandery and Auxiliary members, the widows and extended families of those brother knights and sister auxiliary members who have answered the Lord's call to their heavenly reward for their toils here on earth were present.
You could hear a pin drop, as the FInal Muster of our Brothers and Sisters were called out, and the echoing ping of a Sumatran Prayer Bell rang throughout the hall.
Eternal rest, grant unto them O Lord,

And let perpetual light shine upon them.

May they rest in peace.

Amen.
Slightly over 150 names of deceased members and auxiliary ladies were called. Past members of the clergy were remembered, including one Bishop, six parish priests, and two deacons. Among those clergy remembered was Msgr. Carl J. Denti, who served as Supreme Spiritual Directory of the Knights of St. John International for many years.
Submitted by: Lt. General Sir Thomas Zdanowicz, KC*HS